The office of PeterBoswell.com is adjacent to the home of Peter and Claudine Boswell, 13, chemin des Clairvaux, 1264 Saint-Cergue, Switzerland.
Les Clairvaux is about 300 metres outside the village of Saint-Cergue on the road to Arzier. Leaving the village you cross the railway line close to the Saint-Cergue railway station. There is a turnoff to the right opposite a large parking place. This is the chemin des Clairvaux. Take this lane, climb up 100 metres, follow the lane turning left and then straight on to the end (another 100 metres). The chalet, No. 13, is on the right overlooking fields.
There is a train every 30 minutes from Nyon to Saint-Cergue (the train leaves from a platform in the underground part of the Nyon station). The railway station in Saint- Cergue is at the centre of the village. It is a 10 minute walk from the station to the office.
The railway's timetable. St. Cergue has a Swiss tourism website and an official website.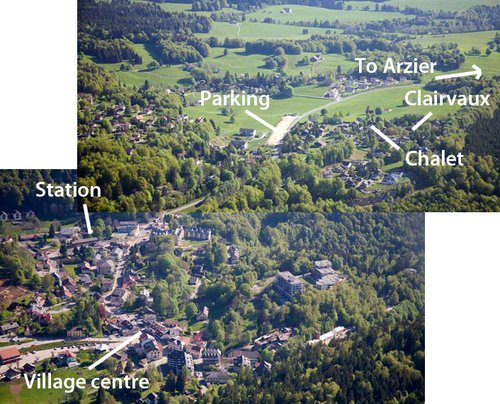 The aerial photo shows the road out of Saint-Cergue towards Arzier. The chemin de Clairvaux starts at the begining of the large parking area. The map of the Saint-Cergue region shows Nyon on Lac Léman close to Geneva and the train line up the Jura Mountains to Saint-Cergue.